English Cocker Spaniel kennel – Royal Quest (FCI) was established out of love for this breed.

Elżbieta Kozak – the owner

We often don't realize how seemingly typical event can change our lives.
For me it was August 10, 1979.
I've always liked dogs, cats and all kinds of animals, and that dayI got my long-awaited and begged dog.
It was an English Cocker Spaniel puppy.
This little golden ball stole my heart and made me fall in love with this breed.
Kora was a typical representative of the breed: joyful, cheerful, smart, always eager to play or to be petted .
We grew up together and day by day it proved to be a wonderful breed for an active person – forever young and joyful.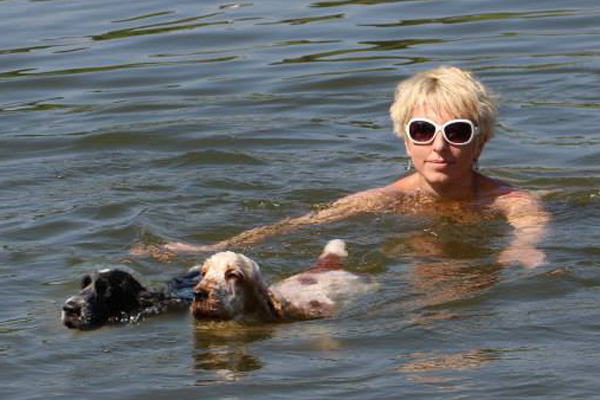 Unfortunately, nothing lasts forever and at the age of 13 she crossed the rainbow bridge. After she left, I missed her happy face at every step … and when I could recall Kora without sobbing, Dżeila Amati-Skocz appeared in 1997 … this time it was a black English Cocker Spaniel. The house was filled with joy again, because that's just the spaniels'  thing to infect others with their cheerful disposition. 🙂 When my family grew, Dżela was a wonderful nanny for my son. However, as the order of things go, Dżeila also eventualy left us. 🙁
The lack of a cocker at home was painful and that's why Casanova, a wonderful blue and silver cocker, came to live with us in 2009, and a year later a white and orange Spy of Love. Happiness to the fullest! 🙂 Both confirmed the typical advantages of the breed: wise, joyful, friendly and full of energy. Additionally, then my adventure with shows began. I met a lot of crazy people there, just like myself. : D Soon my pack grew by two more bitches – mothers of my dogs, Alisia and Kropka. I wanted the bitches that gave me such wonderful dogs to have a nice retirement. In 2013, I looked carelessly at the white sweet baby – every puppy is beautiful, but it was like a bolt from heaven and Fruit Sugar Coolgang "Sweet" in May was already in our kennel and won the hearts of the whole family. Some say she's the most spoiled bitch they know, but she deserves it. ♥
When our grandmother Kropeczka left us in March 2014, the house got empty. Especially my husband felt her loss, so it was impossible to wait any longer and I brought our, now the youngest, spaniel "Dotti" – DE LUXE vom Schloß Hellenstein from beautiful Bavaria. Dotti, our tiny sparkle was able to enliven even slightly sedate dogs, and with Sweet they make an inseparable pair. I am happy that I have such a wonderful pack and I know that when I am sad or I do not feel like anything, these 5 wagging tails will always cheer me up and bring back energy and joy. I know that my passion for English Cocker Spaniels will never fade away, because each of them reassures me that they are perfect dogs. ♥
In 2016, the first puppies in our kennel appeared. Three fantastic males were born and one of them, wonderful Asgard, stayed with us. Puppies at home are a lot of work but also a lot of joy so the next litter was just a matter of time. And so in 2018, the beautiful Beast and the delightful Bilbo stayed in the kennel, and in 2020 the pack increased by a fantastic Fuji and I am happy … but I already have 9 wagging tails: D