"Słodka" FRUIT SUGAR COOLGANG
International Beauty Champion
Polish Junior Champion
Lithuanian Junior Champion
German Junior Champion /VDH
Champion of Russia
Champion of RKF
Champion of Estonia
Polish Champion
Lithuanian Champion
Bulgarian Champion
German Champion/C.I.B
Chamion of Slovakia
Crufts Qualification 2016
Crufts Qualification 2018
8x Cacib i 9x Res.Cacib
Polish Club Winner 2015
dob: 26-02-2013
color: orange roan
health: prcd – PRA N/N clear
clinical eye test – clear.
HD-a
FN – N/N clear
Father: GB Sh Ch NORD UCH NORDJV-11 DKV-12 WW-13
COCKER OF THE YEAR & SPANIEL OF THE YEAR NORWAY 2012
Rainstorm's Latest News
Mother: PLCH BLEPER'S FLAME OF PASSION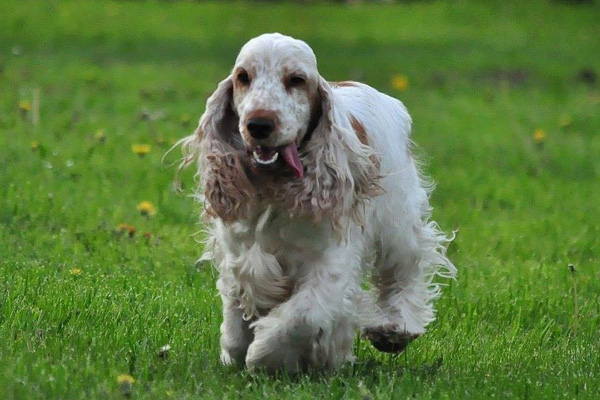 Słodka is a phenomenal bitch and she knows it. 🙂 Everyone who sees her is impressed. The most common word – amazing or sweet 🙂 And so she is. ♥ Together with younger Dotti create a frisky duet 😀 Słodka likes to run, swim and lie on our knees.
SŁODKA'S PEDIGREE:
Gb.ShCh; No.ShCh; Dk.ShCh Rainstorm's Latest News Nord JW'11; WW'13; Dk.W'12; N.W'15
12-01-2011
blue roan
HD:A
EyeTest:unaffected
EyeTest Info:NO(ECVO)
EyeTest Date:29-07-2015
GPRA:clear b.p.
Gb.ShCh Kyna By Request
12-09-2009
blue roan
HD:4/5 = 9
EyeTest:unaffected
EyeTest Info:GB BVA GPRA/CPRA
EyeTest Date:15-11-2015
Gonio:unaffected
FN:clear b.p.
GPRA:clear b.p.
Kyna Mr Bo Jangles
15-05-2008
blue roan
KC AJ02371903
EyeTest:unaffected
EyeTest Info:GB BVA GPRA/CPRA
EyeTest Date:15-11-2015
Gonio:unaffected
FN:clear b.p.
GPRA:clear b.p.
Kyna Rox Ya Rhythm To Royaldean
30-09-2005
blue roan
KC AF04879604 – KCSB 3365CS
EyeTest:unaffected
EyeTest Info:GB BVA GPRA/CPRA
EyeTest Date:15-12-2010
Gonio:unaffected
FN:clear
GPRA:clear
Se.ShCh; No.ShCh Rainstorm's Breaking News
21-11-2007
blue roan
N00191/08
HD:A
EyeTest:unaffected
EyeTest Info:NO(ECVO)
EyeTest Date:01-03-2012
GPRA:clear b.p.
No.ShCh Travis Vital Spark
08-04-1996
blue roan
HD:A
EyeTest:unaffected
EyeTest Info:SE
EyeTest Date:02-07-2007
Se.ShCh; No.ShCh Travis A La Carte
23-03-1997
black
HD:B
EyeTest:unaffected
EyeTest Info:NO(ECVO)
EyeTest Date:06-02-2006
Bleper's Flame of Passion
19-10-2009
orange roan
2248/XLVIII/09
Bleper's Van Gogh
orange roan
PKR.VIII21896
FN:clear b.p.
GPRA:clear b.p.
Int.ShCh Benchmark Hard Rock Cafe
23-05-1996, lemon roan, FIN36189/96, HD:A/A, EyeTest:unaffected, EyeTest Info:FI, EyeTest Date:28-12-2006, FN:clear, GPRA:clear
Int.ShCh Hopeful I Have A Dream
blue roan, LV-EXP-0032/96, HD:A
Bleper's Kashmir
red & white
PKR.VIII15118
Bleper's Gipsy King
blue roan, PKR VIII-9422
Wedelta's Tatum
05-04-1994, black & white, S32013/94